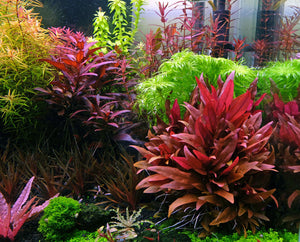 THE SECRET TO RED PLANTS REVEALED
Personally, I am a fan of finding an answer quickly when I have a question so I will do my very best to give you the information you need with no fluff.
The secret is that there is no secret, just bad information being spread. Many hobbyists struggle with keeping plants red in their aquarium. They buy them red or with the expectation of them turning red over time and it never happens. Let's take a look at the true/false questions to help get rid of some false beliefs. 
TRUE or FALSE?
Iron causes bright red/orange coloration in plants?
FALSE!
 It is a misconception that extra iron is required for bright coloration. Like all plants, trace amounts of iron are needed for plant health/growth, but dosing extra iron does not lead to increased red/orange coloration. Pigments produced by plants do contain iron, but dosing excess iron will not increase color. Dosing excess iron does more harm than good, especially in the case of invertebrates such as shrimp since they are very sensitive to copper that is found in iron. 
Color on plants is due to higher lighting rather than iron?
TRUE!
 Color on plants is due to higher lighting rather than iron. Dosing extra iron to get a plant to produce a better red color is more of a myth than anything. Thats why the closer a plant gets to the light source, the more colorful the leaves at the top get. 
Wrapping things up:
Want more colorful plants?
Get bright lights! 6500k full spectrum daylight equivalent lights are optimal. The goal is to mimic the sun.
Start using micro & macro nutrient fertilizer to provide your plants with the appropriate nutrients that they need for healthy and colorful growth
Feeling more confident now? Maybe even a little inspired? I sure hope so! Check out some Ludwigia Repens and Rotala Rotundifolia that I have up for grabs and use the methods described in this article I wrote. Thanks for reading! 
- Marcus 
---